Our perfumes are available in nine rare fragrances in 1/8, 1/4 spray, 1/2 and full oz. bottles, as well as a softer body mist cologne in a 2 oz. atomizer.  Blended for the arid climate of the American Southwest, no other perfumes in the world have these unique qualities and aromas.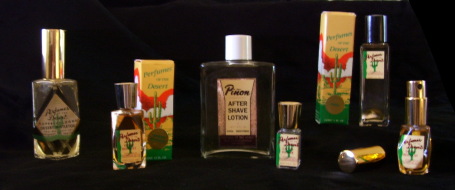 Perfumes of the Desert are backed by more than 50 years of work and research by three generations of perfumers. Hand-blended and bottled in our Albuquerque laboratory, these unique fragrances can only be found here.
Created for a dry climate, our secret formulas are taken from select native plants throughout the Southwest and contain more oils than normal perfumes.
From the canyonlands, deserts and mountainsides of Colorado, Arizona and New Mexico, we have collected a unique array of signature scents for your enjoyment.

Perfumes of the Desert has been providing signature fragrances on the plaza in Old Town Albuquerque for many decades.  When you are visiting Albuquerque,  we currently offer our perfumes at Grandfather Eagle  (formerly Old Town Indian Trading Post),  located on the east side of the plaza, at 208 San Felipe.